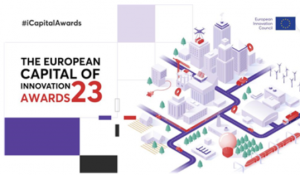 ANI, in partnership with the European Innovation Council (EIC), is promoting the 9th edition of the European Innovation Capital Awards (iCapital). Applications run until the 29th of June.
This competition recognizes cities with inclusive innovation ecosystems, which identify the urban ecosystems that connect citizens, the public sector, academia and companies, in a way that creates conditions to improve the well-being of citizens and promote disruptive solutions.
The iCapital Award has two categories: the "European Innovation Capital", aimed at cities with more than 250,000 inhabitants, and the "Innovative Rising City" category, which will award cities with more than 50,000 and less than 250,000 inhabitants. The first three cities in each category will receive a sound prize.
As part of the launch of this 9th edition of the award, the European Innovation Council and Executive Agency for SMEs (EISMEA) is organizing an informative webinar. This event will take place on March 28, at 10 am, in digital format. This session intends to present the main novelties, the eligibility criteria and the details of each category of this award.
More information at: EIC Prizes (europa.eu)